Spain continues to be one of the worlds most popular tourist destinations.  In 2017, a record 82 million people visited the country.  But, what is the best way to travel to Spain?  There are hundreds of flights everyday from the UK to Spain and the number of flights continues to rise to meet the demand.  There are also other options for travel, including by train or Eurostar and ferry.
Flights to Spain
There are hundreds of flights to Spain every day from the UK.  The average flight time is 2.5 hours, but varies depending on the departure and arrivals airport.  The largest and busiest airport in Spain is Madrid or Adolfo Suarez Madrid-Barajas Airport (MAD).  Over one million passengers flew between Madrid and London Heathrow last year, and nearly the same number flew between Madrid and London Gatwick.  Almost half of the airports air traffic is from the Spanish airline Iberia Airlines, who have daily flights to the UK from Manchester, Gatwick, Birmingham and Edinburgh.
The second busiest airport in Spain is Barcelona-El Prat Airport (BCN).  Flights from a number of British airlines travel between the UK and Barcelona including Easyjet, Vueling, British Airways and more.  Both Madrid and Barcelona airports are busy throughout the year, as tourists visit these major Spanish cities.  The airports closer to the holiday resorts like the Costa Del Sol, tend to be busier during the summer months when the tourist season reaches its peak.
Malaga Airport (AGP) is the closers to the resorts on the Costa Del Sol, and is served by an array of different airlines.  Cheap flights from the UK are provided by airlines like Easyjet, Ryanair and Jet2.  Flying to Malaga airport gives holidaymakers easy access to all the popular resorts in and around the Costa Del Sol.  There are also direct flights to Palma de Majorca International Airport (PMI) from Easyjet, Ryanair, British Airways, Jet2, Norwegian, FlyBe or Thomas Cook.  The airport is easily accessible from the resorts of Alcudia, Puerto Pollensa, Cala D'Or and Palma Nova.
Due to the popularity of Spanish holidays, many airlines are continuing to add daily flights and flight routes to their schedules.  For example, Europes largest airline Ryanair have recently announced that it plans to introduce 29 new routes to and from Spain, meaning that it now operates 500 different routes from Spanish airports and have the capacity to serve over 40 million customers this summer.  The new routes from the UK run between Seville and Bristol and Edinburgh, as well as between Birmingham and Malaga.  In addition to this, they will be operating new routes between Spain and other cities across Europe.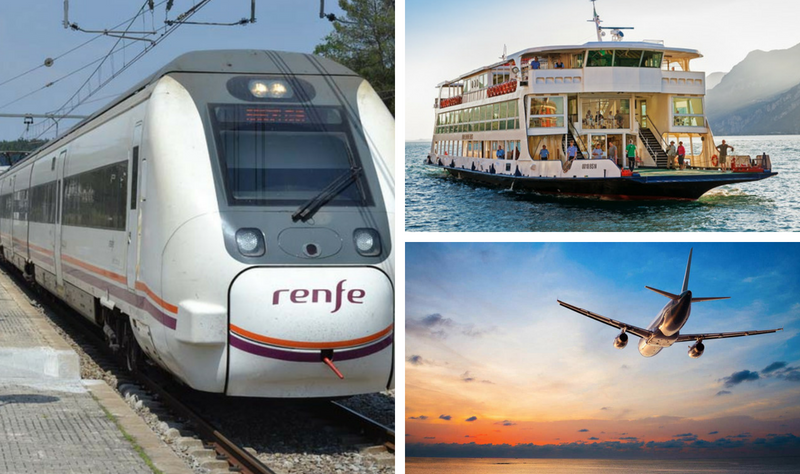 Ferries and Trains
Brittany Ferries currently operate three different routes between the UK and Spain, and offer a total of seven sailings a week.  The route between Plymouth and Santander runs once a week.  Portsmouth to Bilbao runs three times a week and Portsmouth to Santander three times a week.  Brittany Ferries have also recently announced that they will be adding a new route from April 2018 which will run between Cork (Ireland) and Santander twice weekly.  The ferries will serve an estimated 500 passengers, and it is estimated to take a total of 26 hours to reach Santander in the North of Spain.
Another option of travelling to Spain from the UK is by train.  Eurostar is available from St Pancreas Station in London directly to Paris, and from APris there are Trainhotel sleeper trains to either Madrid or Barcelona. 
Costa Space is an independent estate agency based in Calahonda providing comprehensive property services for Marbella, Mijas Costa and Fuengirola areas in the Province of Malaga.
We are a progressive and innovative agency continuing to strive for excellence through providing sound property advice to our clients and using the latest in the next generation marketing. If you're interested in buying or selling your property on the Costa del Sol, please do not hesitate to contact us.