As the second-most populous city of Andalusia, Málaga is a beautiful place located in the South of Spain, full of history and curiosities that everyone enjoys. If you are interested in this place, you need to know about the wonderful Caminito del Rey, a walkway which surrounds a big gorge, and which was nominated as one of the greatest experiences of 2015 by Lonely Planet.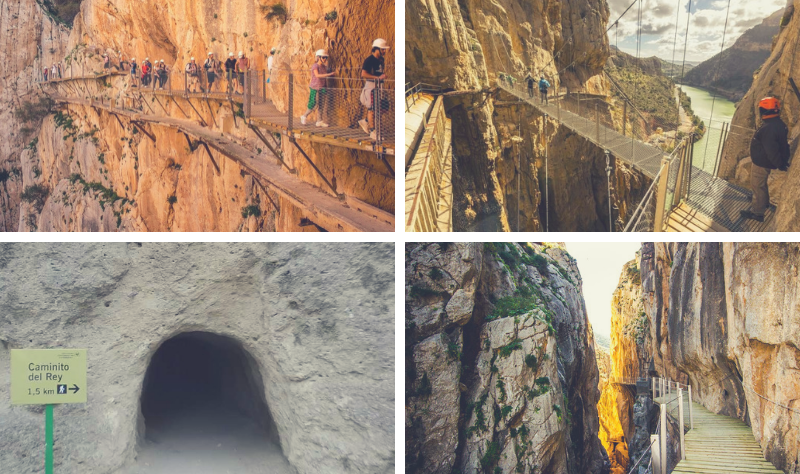 Some of its history
What you can expect if you go to Caminito del Rey is to find the long walkway with tall stone walls around and at a great altitude so that you can appreciate all the landscape. It is a wonderful place, then, to do climbing if you enjoy it.
The most famous thing about this place was the "pasarela de hormigón", a thin and small bridge that joins the two sides of the gorge. So, basically, this bridge gives you the chance to pass from one kind of mountain to another, which was very dangerous and killed some people in the old times.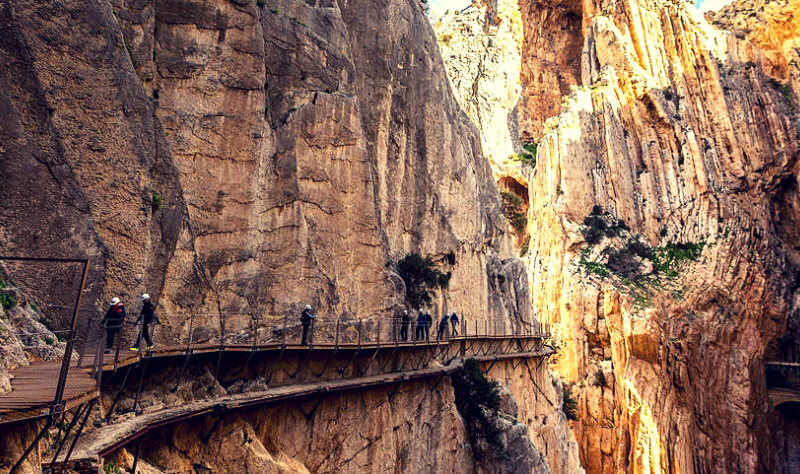 Start the adventure
So, if you want to know exactly how this walkway is about, after all the renovation you must follow this route: from Ardales to Árola crossing all the mountain but you have some different options to decide how to get to the end. The time for doing all the walk is 4 hours and you follow the way of the river.  
While walking you will enjoy a beautiful view and different curious plants and birds. There are some dark tunnels and restaurants where you can enjoy traditional food. But a good trick if you don't really like tunnels is to pass behind a restaurant called El Mirador, which is really beautiful as you go down by the river. You don't need to be aware to be lost as there is always indicated by the wood walkway.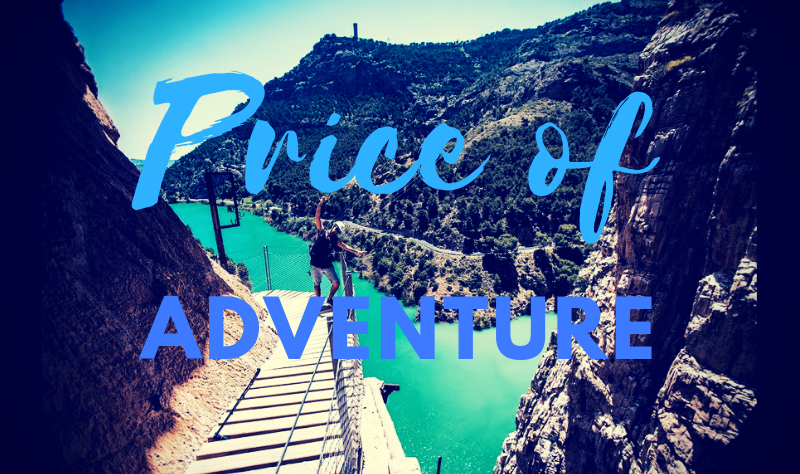 How much it costs?
To enter the Caminito del Rey, you need to pay around $10 per person, and you are also able to pay for a guided tour, a nice option if you want to learn better about the area (remember that sometimes it worths because it avoids to go away from there without discovering all the real secrets, and you can get the tour in several languages, meet people and enjoy the real things of the area). The best way to buy them is on their website and the maximum of people who can go at the same time is 1.100 persons.
As you can see, this is a great place for those who love mountain and natural adventures, but it is extremely important to be equipped but good climbing shoes and clothes as well as think it well if you don't suffer from vertigo. And don't forget all the thing an explorer must have, good shoes, water, a hat, sun protection for skin and a big bag of smiles and happiness, you are on holidays!
Costa Space is an independent estate agency based in Calahonda providing comprehensive property services for Marbella, Mijas Costa and Fuengirola areas in the Province of Malaga.
We are a progressive and innovative agency continuing to strive for excellence through providing sound property advice to our clients and using the latest in the next generation marketing. If you're interested in buying or selling your property on the Costa del Sol, please do not hesitate to contact us.