Nestled perfectly in the very diverse stretch of coastline on the Costa del Sol, Mijas Costa is a beautifully scenic part of the world and is situated in between Fuengirola and Marbella east. Whilst there are many holiday resorts surrounding this wonderful area, there is also a history and culture to Mijas Costa and it is one of the most loved housing destinations in the area. Its inhabitants love to make use of the abundance of local shops, gorgeous beaches, restaurants and bars. Not to mention the crazy amount of golf courses around too.

Brief History
Whilst it has been considerably modernised in the last 20 years for holiday makers, the gorgeous infrastructure all over Mijas Costa truly makes up for what it lacks in other areas. Mijas Costa is full of amenities and has access to all the best Andalusian culture just a short bus ride away. It is extremely close to other fantastic resorts such as Marbella, Fuengirola and Mijas Pueblo. Anytime you need a break from the usual day to day you can have it with a very short walk to the beach. We are picturing sand, sangria and a calming sunset to end the working day.
Mijas Costa is combined of two main areas surrounded by beauty. Sitio de Calahonda and Riviera del Sol are the major urbanizations in the area.   They are made up of their own small villages with major amenities such as supermarkets, commercial centres, sports centres, bars and restaurants. There is also the pretty fishing village of La Cala de Mijas which has become increasingly popular over recent years and is currently experiencing a housing construction boom.   The quality of life in Mijas Costa is much better than other places along the Costa del Sol coastline. Mijas Costa is a currently booming mini industrial empire. Surrounded by tourist resorts the area offers a vast amount of jobs all with good progression and wages.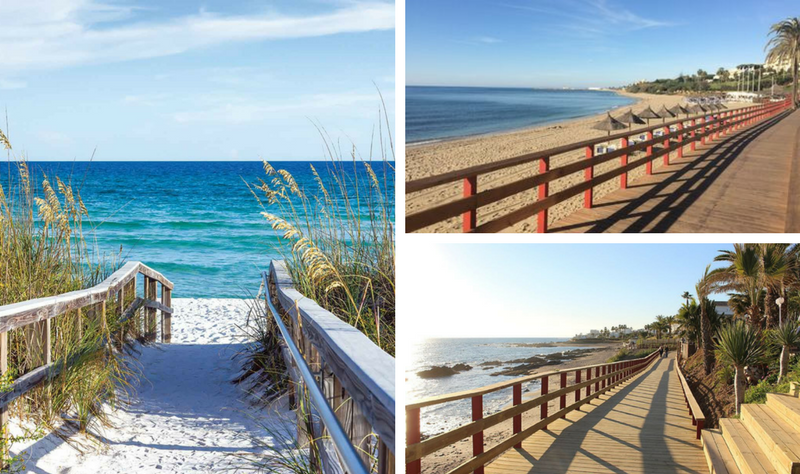 Places To Visit
With amenities all around, all you really need to know is exactly what is around you and where to go for great days out and visits. Often people use Mijas Costa as a base to further explore the rest of the Costa del Sol. This is due to the fact it is more homely than touristic and situated in the perfect location to relax before a hectic day of sightseeing.
Of course the well acclaimed and sophisticated Marbella resort is a short 10-15 minute drive from Mijas Costa's main town of La Cala De Mijas, and along the way you' will be able to see the elegant, white washed, inland pueblos of places like Alhaurin el Grande, Coin and Mijas itself. The coastline of Mijas Costa is also home to some of the most scenic beaches in all of Spain. If this was not enough then there are daily activities going on! These include: water sports, jet skis, waterskiing, windsurfing, paragliding and wakeboarding.
If you are with children then the Mijas' Water Park, Parque Aquatico Mijas is going to be one of your go-to destinations. It is a well known favourite with the local kids as well as holidaymakers featuring wave pools, play islands, water slides and body skiing, just to name a few of their main activities. On route to enjoy this crazy experience you will pass the highly respected Bioparc Fuengirola, which is one of Fuengirola and Mijas best zoos. The zoo has spent years reshaping the landscape to create a home for endangered animals, and offers an insight into tropical animal life that would otherwise would not be able to experience.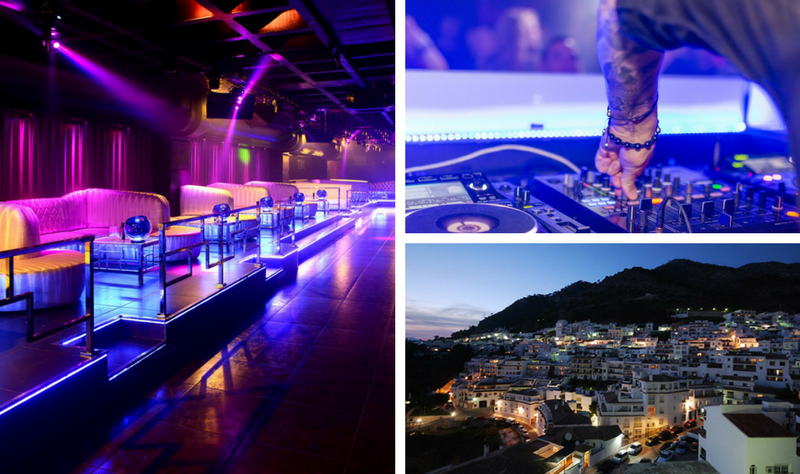 Nightlife
If you arethe type who enjoys good food and good company, then don not fear, as Mijas Costa is known for its fabulous gastronomy and bars. Featuring food from all over the world, including your typical English breakfast, Indian, Italian or Mexican cuisine there really is something for everyone. However, if you want to blend in with the locals then you will adore its array of beach restaurants that overlook the sea as you feast on the day's best catch.
Costa Space is an independent estate agency based in Calahonda providing comprehensive property services for Marbella, Mijas Costa and Fuengirola areas in the Province of Malaga.
We are a progressive and innovative agency continuing to strive for excellence through providing sound property advice to our clients and using the latest in the next generation marketing. If you're interested in buying or selling your property on the Costa del Sol, please do not hesitate to contact us.