The Mediterranean diet cannot be understood without olive oil.  It is widely used in the country, in bars and restaurants as well as in homes.  Its consumption provides many benefits to human health and today we are going to discover some aspects of olive oil so that you can choose the most suitable one.
Olives
Olives are an Andalusian delicacy, in a land where olive growing is widespread.  Fields and fields of olive trees extend throughout Andalusia, where the climate favours their growth.  Olives are very common in Spain, and it is typical in any bar or restaurant for them to be served as an accompaniment to an aperetif.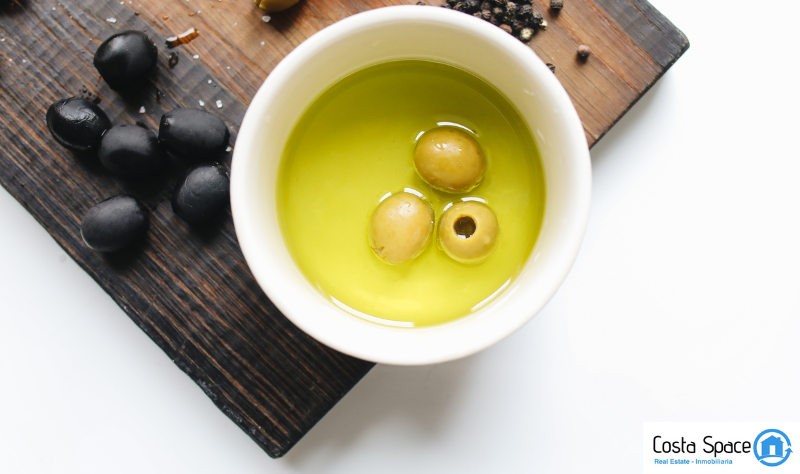 Benefits
When considering the benefits of Olive oil, it is worth mentioning that it is used for both food in the kitchen and for making soaps, gels and cosmetic creams.  The fatty acids contained in olive oil are beneficial for health, including preventing the appearennce of Alzheimer's disease and cardiac arrhythmias.
Olive Picking
The olive is picked from the olive tree in different ways.  Manual picking makes possible to obtain the best olive oils.  Another method is to hit the branches with a stick and let the olives fall, although this prevents the tree from producing olives the following year.  They can also be picked by shaking the olive tree with a device attached to a tractor and letting the olives fall into a kind of umbrella.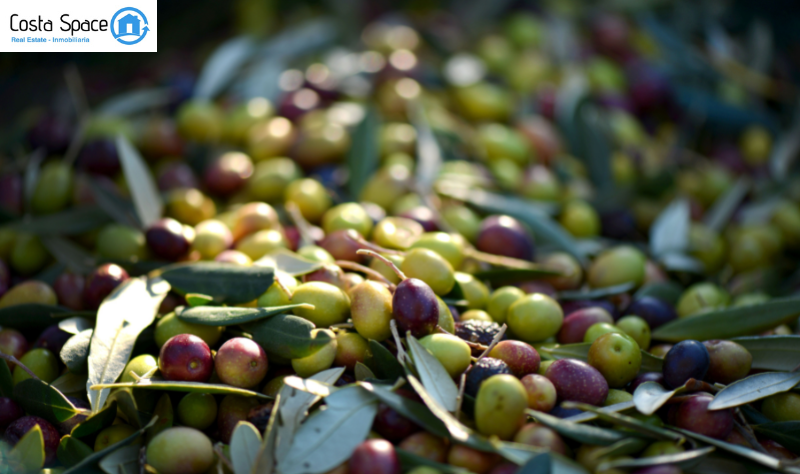 Types of Oil
The best oil of all is Extra Virgin Olive Oil, also called AOVE (Aceite de Oliva Virgen Extra).  It is the purest and healthiest form in terms of its properties.  Its flavour is much more intense and it is the most recommended to use on toast, in salads and in general when taken raw.  It is more expensive than the other oils, but it is worth it.  It can be said that it is almost an olive juice and has an acidity of less than 0.8 degrees.  Only mechanical procedures are used to obtain it.
As the oil is purified, a lower quality oil is left.  The next is the Virgin Olive Oil and that is of very good quality with a degree of acidity of less than 2%.  After that come oils that are not of good quality, such as refined olive oil, 'lampante' oil and 'orujo' oil.
Zones
In the area of the Sierra de Cazorla, in the province of Jaen there are large olive oil producers.  Others are found in the mountains of Cordoba and in the northern mountains of Seville.  It is possible thanks to the advances off the technological era to buy oil directly from the oil mill, which is the place where the olives are picked, treated and obtained.
Recommended
Undoubtably, olive oil is a source of health benefits and has a flavour that allows you to enjoy food and highlight its tastes.  Can you already imagine eating a delicious salad seasoned with AOVE?  Or maybe have some toast with oil?  We hope that you enjoy it!
Costa Space is an independent estate agency based in Calahonda providing comprehensive property services for Marbella, Mijas Costa and Fuengirola areas in the Province of Malaga.
We are a progressive and innovative agency continuing to strive for excellence through providing sound property advice to our clients and using the latest in the next generation marketing. If you're interested in buying or selling your property on the Costa del Sol, please do not hesitate to contact us.